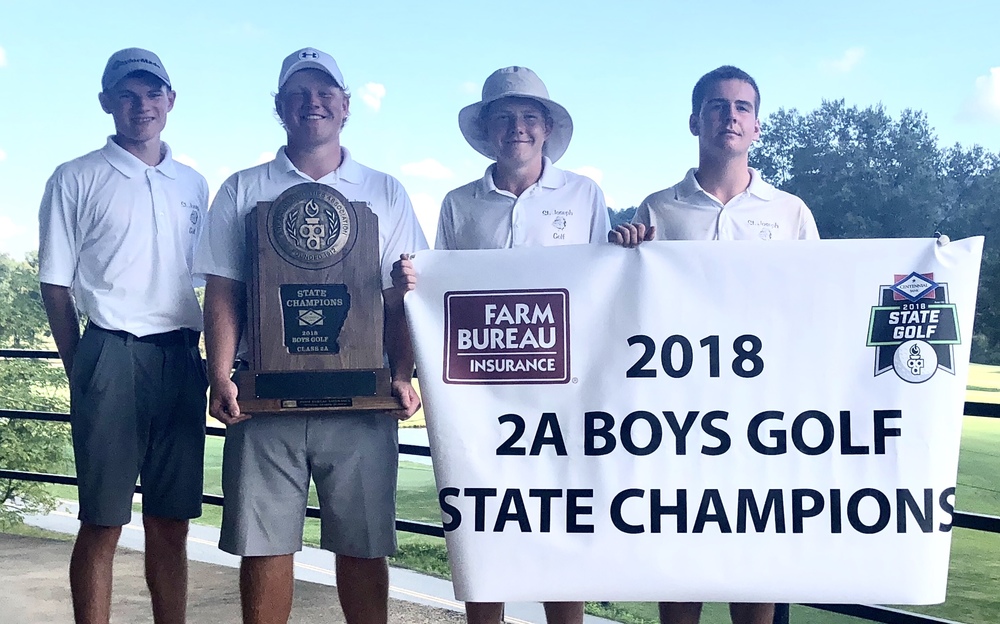 Another View of Our Golf Champs!
Ray Nielsen
Thursday, October 04, 2018
This picture (provided by Maria Longing) shows Timmy Coney with trophy and Gus Longing on left. Collin Coney and Luke Bruich are seen at right. Now here are the particulars of what took place.The Boys Golf Team had a winning score of 262 which was one shot ahead of Conway Christian which was the Runner Up at 263. The scores for St. Joseph were: Gus Longing 85. Gus made All- State for the 2nd consecutive year. He finished in a tie for 3rd Place and lost in a playoff to play in the Overall Golf Tournament. Collin Coney had an 86. He also earned ALL- State Honors. Luke Bruich came in with a 91 as did Timmy Coney. Other members of the Boys Golf Team are Elijah Bailey, Caleb Mallett, David Green, and Landon Baker. Our Golf Coaches are Head Coach Mike Prall and Assistant Coaches Lindell Atkinson and Brent Breeding. Congratulations to all.