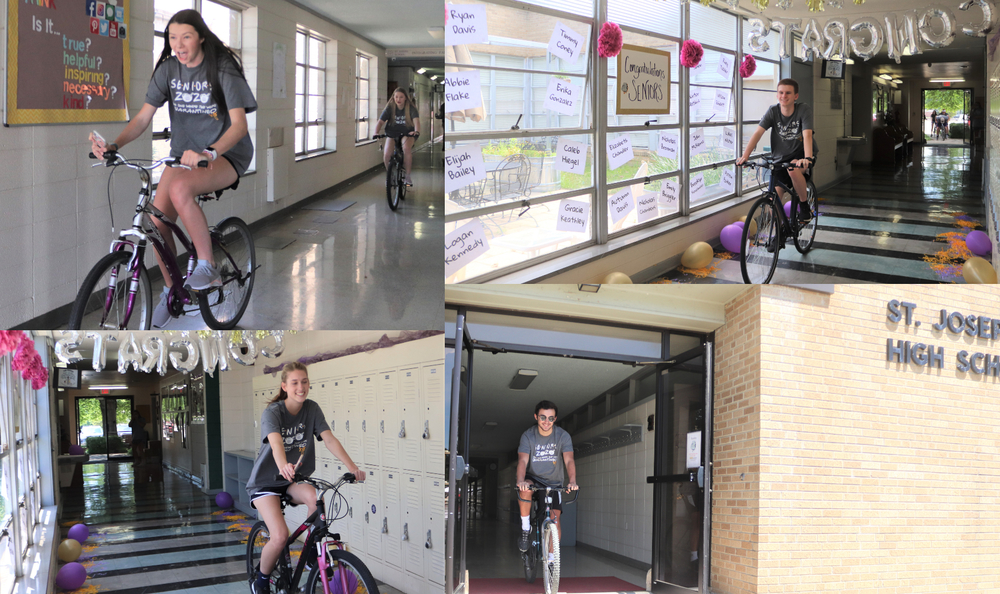 The Last Ride
Ray Nielsen
Friday, May 01, 2020
St. Joseph School's Senior Class of 2020 had its last day on May 1st. To celebrate that occasion, they renewed a tradition in a slightly different way. In the past, the students would ride to school on bicycles and briefly ride through the hallways to resounding cheers. COVID-19 changed all that. There were no younger students on hand to applaud the graduates due to the March shutdown.
Senior sponsor Karen Davis organized the seniors' last ride in such a way that social distancing was maintained. Assistant High School Principal Teri Breeding, who decorated the hallway, was also there to lend encouragement as was Middle School Principal Matt Tucker.
The class of 21 seniors came in two separate waves. The first group of ten went in opposite directions. Half rode through the high school while the others made their way through the middle school. They were kept six feet apart and were signaled through in ten foot intervals. The two groups then switched campuses. When they were done, the next group of seniors repeated the sequencing. The seniors shown here are Abbie Flake, Brooklyn Kordsmeier, Hunter Watkins, and Nicholas Brorman.