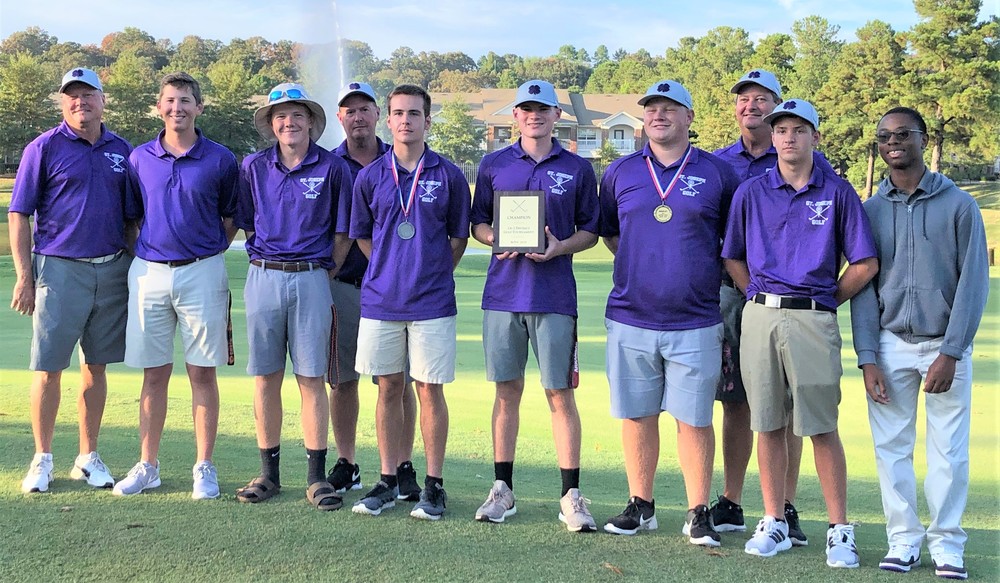 Golf Team Wins District Tournament
Ray Nielsen
Wednesday, September 25, 2019
St. Joseph High School's Golf Team won the 2A-2 District Tournament held September 24 at Conway's Links at Cadron Valley Golf Course. The win was achieved despite battling rainy weather through some of their play. Our team score was 242 compared to Bigelow's 372 which earned 2nd Place.
The individual standouts were Gold Medalist Timmy Coney, who shot a 77, while Luke Bruich was the Silver Medalist with a score of 79. Head Coach Mike Prall and Assistants Brent Breeding and Lindell Atkinson prepared the players.
The Bulldogs move on to the State Tournament on October 8th which will be played at the Greystone Golf Course near Cabot.
Seen here (left to right) are Assistant Coach Brent Breeding, Landon Baker, Collin Coney, Assistant Coach Lindell Atkinson, Luke Bruich, Gus Longing, Timmy Coney, Head Coach Mike Prall, Logan Bruich, and Manager David Green. Gage Kordsmeier and Elijah Bailey are not pictured.