In 1879, with determination, sacrifice and extraordinary gifts of time, talent and financial support, the Holy Ghost Fathers established St. Joseph School under the direction of the Sisters of St. Joseph de Cluny from France. Upon this foundation, St. Joseph School has remained an important part of the history of Conway as a dynamic K-12 parochial Catholic school committed to developing adults of faith and intelligence.
Today, support for St. Joseph School comes from parents, grandparents, friends, foundations and corporations. The St. Joseph School Annual Fund is a yearly opportunity to help support the current operating budget and tuition assistance needs. 100% of your donations to the SJS Annual Fund go directly to the school. Annual giving, whether it is a one time gift or monthly donation, provides lasting support to the long term success of our school, supporting a wide range of programs and initiatives that continue to provide St. Joseph School students with a solid educational foundation to succeed beyond high school. Our goal for the St. Joseph School Annual Fund is $80,000.
With the 2021-2022 Annual Fund, our focus is raising funds to purchase a new bus. Our school bus is used to transport St. Joseph students and parish groups to things like athletic competitions, athletic and leadership camps, school and Youth Ministry field trips, parish and diocesan retreats, etc . In the past, the Annual Fund resulted in air conditioning being added to the gym, something enjoyed by all who attend events at the Family Activity Center.
You may be able to increase the impact of your gift with a corporate match. Many employers offer up to a 100% match as a benefit to their employees. Your donations to the St. Joseph School Annual Fund are tax-deductible.
Online contributions can be made through the button above.
All gifts to the St. Joseph School Annual Fund are important. To show appreciation for your support, the school has established giving societies to thank each donor.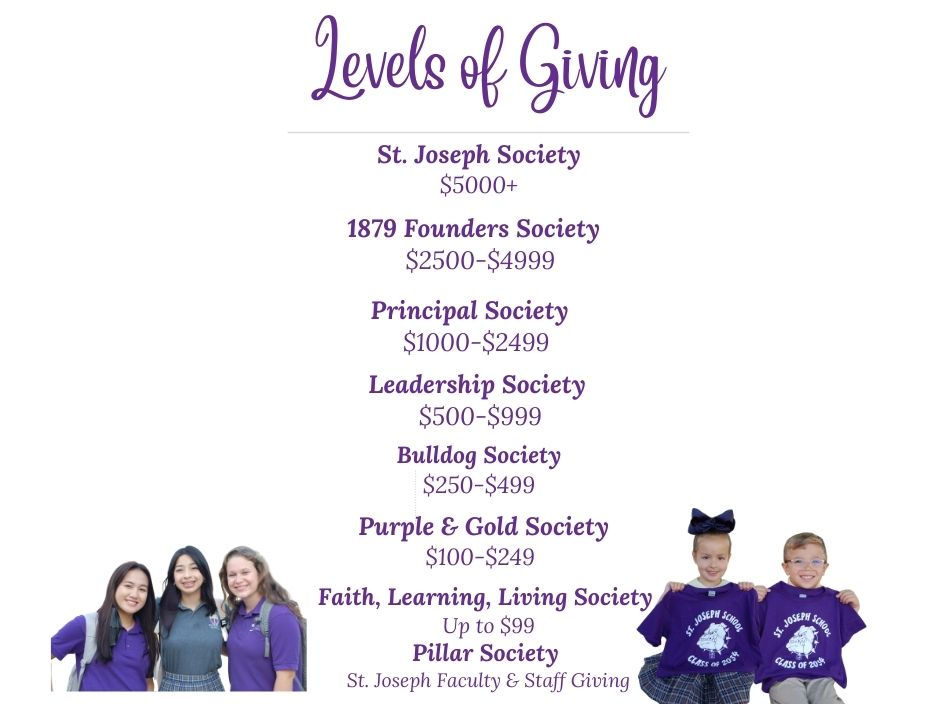 TUITION ASSISTANCE FUND

Approximately 9% of our students receive need based tuition assistance. As part of the Annual Fund for St. Joseph School, donors can now support student tuition assistance through the Bulldog Scholars Fund. The Bulldog Scholars Fund will be distributed each year, enabling St. Joseph School to provide tuition assistance to students who demonstrate financial need. Requirements to establish a named Bulldog Scholars Fund are as follows:
$3,035 annual gift representing one-half of the full expenses for one student.

$6,070 annual gift representing the full cost of educating one student.
Bulldog Scholars donors are encouraged to make a minimum three (3) year commitment to the fund. Through participation in this program, you can witness a life being forever changed and gain satisfaction in making a difference in the life of a child through Catholic education.
WAYS TO GIVE
CASH GIFTS
Gifts may be paid by cash or a check made payable to St. Joseph School and sent to:
St. Joseph School Business Office
502 Front Street
Conway, AR 72032
ONLINE GIVING
Contributing online is a convenient and safe option to make your gift. Visit the DONATE button above to donate online.
RECURRING GIFTS
You can arrange to make a set monthly gift to St Joseph School, enabling both you and St. Joseph School to plan and budget most efficiently. Your monthly gift will go to work immediately to ensure that St. Joseph School can continue to offer an exceptional Catholic education for generations to come!
PLEDGES
Pledges are gift commitments paid over a period of time according to a prearranged payment schedule. Indicate your pledge on the gift form or contact us to set-up a pledge program that will work for you.
MATCHING GIFTS
Many employers sponsor matching gift programs that match donations by current and retired employees. If you are interested in such a gift, please contact the employer for proper procedure. Once the gift is made to St. Joseph School, we will be happy to confirm the contribution with your employer for the match. A matching gift may double your gift to the Annual Fund.
STOCKS, SECURITIES, & MUTUAL FUND SHARES
Gifts in the form of appreciated securities are tax deductible in accordance with IRS regulations. To transfer stocks or bonds, contact the St. Joseph School Endowment Office at 501.329.1818.
PLANNED GIVING
Gifts through estate planning are a great and often easy way to support St. Joseph School today and into the future. Bequests, gift annuities, life insurance and other financial vehicles are available, often with substantial tax advantages for the donor and their heirs. If interested in planned giving, please contact the St. Joseph School Endowment Office at 501.329.1818.