EDIT MAIN
Uniform Store
Our used uniforms store is located inside the St. Joseph Volunteer Center on the elementary campus. You may shop anytime Monday through Wednesday and Friday, between 8 a.m. and 3 p.m. while the Volunteer Center is open. Special evening sales will be announced.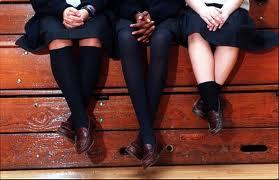 Our gently used uniforms are a great way for us to provide reasonable prices to families shopping for uniforms. If you have uniforms you wish to sell, you may attach an envelope to the uniform with your child's name and the price on it and the money will be sent to you when the item sells. If you do not attach an envelope we will assume you intend the proceeds of the sale to go to the Volunteer Center. Please, only send uniforms which are in good condition. Uniforms that are faded or have holes will be discarded.
Note: ALL girls' skirts must be knee length and therefore must be fitted and purchased from "The Toggery" in Little Rock.
Our parent coordinator, Mrs. Angie Rawls, may be contacted for further information.