EDIT MAIN
School Profile
Quick Facts
St. Joseph School: 1879 founding date
Location: Conway, Arkansas (population 65,782)
Enrolled Students: 523 PK 3-12
| | |
| --- | --- |
| Town | Enrolled Students (446/K-12) |
| Conway | 387 |
| Bigelow | 6 |
| Damascus | 1 |
| Greenbrier | 17 |
| Heber Springs | 2 |
| Houston | 7 |
| Little Rock | 1 |
| Maumelle | 2 |
| Mayflower | 6 |
| Morrilton | 2 |
| North Little Rock | 1 |
| Plumerville | 1 |
| Roland | 2 |
| Sherwood | 5 |
| Vilonia | 5 |
| Wooster | 1 |
Catholic Enrollment: 91%
Diversity Enrollment: 11%
Enrolled Families: 345
Faculty/Staff: 80 lay women and men
Student/Faculty ratio: 12:1
Average Faculty Experience: 16 years
ACT and College Entrance Examination Board Code Number: 040500
33 faculty/staff members graduated from a Catholic high school: St. Joseph School (17); Carondelet High School, CA (1); Catholic High School for Boys (1); Gross Catholic High School, NE (1); Mount St. Mary Academy (7); Sacred Heart Catholic School (4); Trinity Catholic High School, MO (1); and Ursuline Academy, MO (1).
13 current faculty/staff members have had the honor of being recognized by the St. Joseph School Alumni Association as Honorary Alumni.
21 St. Joseph School faculty members hold a master's degree, 1 faculty member holds a specialist degree, and 1 faculty member holds a doctorate degree.
administration
Diocese of Little Rock Bishop: Bishop Anthony B. Taylor
Office of Catholic Schools Superintendent: Mrs. Theresa Hall
St. Joseph Catholic Church Pastor: Father Anthony "Tony" Robbins
St. Joseph School Head of School/Principal: Mrs. Diane Wolfe
St. Joseph School Assistant Principals: Mrs. Teri Breeding, Mrs. Courtney Pope, and Mr. Matthew Tucker
ACCREDITATION Organization
Arkansas Nonpublic School Accrediting Association (ANSAA)
Memberships
National Catholic Educational Association (NCEA)
The School
St. Joseph School is located at 502 Front Street in Conway, Arkansas. The school site encompasses 22 acres in the downtown area of Conway. There are several buildings on the grounds that house different grade levels. The secondary building houses grades 7-12, the middle school building houses grades 4-6, and the elementary building houses grades PreK-3.
Curriculum
St. Joseph School follows the curriculum set forth by the Diocese of Little Rock. The In Spirit and Truth Curriculum Guide applies to all Pre K through 8th grade Catholic schools in Arkansas.
The United States Conference of Catholic Bishops Doctrinal Elements of a Curriculum Framework for the Development of Catechetical Materials for Young People of High School Age and the Arkansas Department of Education Arkansas Academic Standards are used for grades 9th-12th.
Grading
A = 90-100
B = 80-89
C = 70-79
D = 60-69
F = Below 60
GPA distribution chart
Rank is not weighted
Graduation Requirements - 25 credits required
Religious Education 4 Credits
Math 4 Credits
English 4 Credits
Science 3 Credits
Social Studies 3 Credits
Electives 3 Credits (Minimum)
Communication 1 Credit
Health and P.E. 1 Credit
Fine Arts 1 Credit
Computer Science 1 Credit
sPORTS & ACTIVITIES
Mascot: Bulldog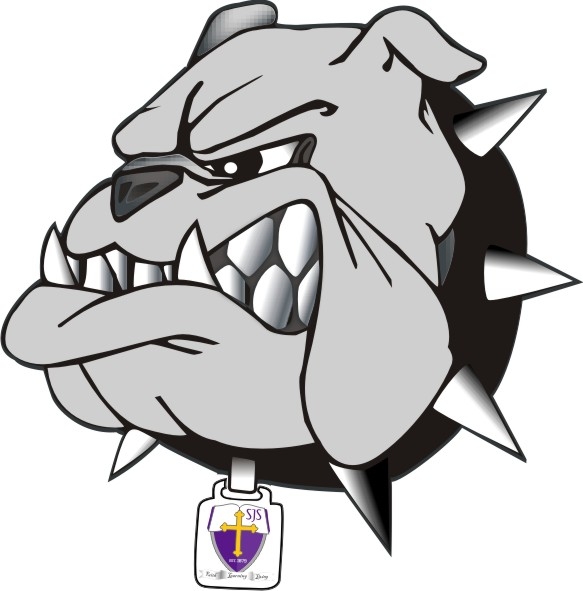 | | | |
| --- | --- | --- |
| Fall Sports | Winter Sports | Spring Sports |
| Cross Country (7-12) | Basketball (7-12) | Baseball (9-12) |
| Boys Golf (9-12) | Bowling (9-12) | Soccer (9-12) |
| Girls Volleyball (7-12) | PeeWee Basketball (4-6) | Softball (9-12) |
| | PeeWee Spirit (4-6) | |
| | Spirit (7-12) | |
| | | |
| Activities | | |
| Band (5-12) | Choral Music (5-12) | FCCLA (7-12) |
| Quiz Bowl (4-12) | Theatre (4-12) | |
St. Joseph School alumni presently attend or in recent years have graduated from the following colleges and universities:
Arkansas State University
Arkansas State University - Beebe
Arkansas Tech University
Baylor University
Belmont University
Benedictine College
Central Baptist College
Christian Brothers University
College of the Ozarks
College of William and Mary
Dartmouth College
Franciscan University of Steubenville
Grantham University
Harding University
Henderson State University
Hendrix College
Ithaca College
Liberty University
Louisiana State University
Louisiana State University School of Dentistry
Louisiana Tech University
Lyon College
McLennan Community College
Missouri State University
North Arkansas College
Oklahoma State University
Purdue University
Rockhurst University
Savannah College of Art and Design
Seton Hall University
Southern Arkansas University
St. Gregory's University
Saint Louis University
Texas A&M University
Texas Tech University
United States Air Force Academy
University of Arkansas
University of Arkansas Community College at Morrilton
University of Arkansas for Medical Sciences
University of Arkansas Fort Smith
University of Arkansas at Little Rock
University of Arkansas - Pulaski Technical College
University of Central Arkansas
University of Louisiana at Monroe
University of Mississippi
University of the Ozarks
University of Saint Mary
University of Tennessee
University of Tennessee Health Science Center
University of Tennessee College of Dentistry
University of Texas at Dallas