EDIT MAIN
Faith Life
St. Joseph School is a diocesan Catholic school and our faith life is an important part of the SJS experience. Students, faculty, and families have multiple opportunities to live their faith as members of this community.
The entire school population celebrates Mass once a week, gathering together in the parish church. Students assist as lectors, song leaders, gift bearers, ministers, altar servers, and ushers. Religion classes are required every year a student attends St Joseph School. We are blessed to have priests who interact often with our students serving as role models for each of us. Daily announcements begin with scripture reading and school prayer. Various service projects allow students to demonstrate their understanding of social justice as an integral part of the Catholic faith.
Praying the Rosary, attending the Sacrament of Reconciliation, working together to support the local food banks, volunteering time at the community free clinic, visiting nursing homes, supporting the Angel Tree, performing drama productions related to Advent and Lent, weekly prayer services, participation in the prayer chain, and spiritual adoption of unborn babies, just to name a few, are all ways we celebrate our faith at St. Joseph School.
CIRCLE OF GRACE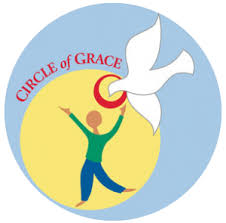 Circle of Grace is the children's education component of the Diocese of Little Rock's Safe Environment training. It serves the dual purpose of educating and informing children and youth about the value of positive relationships with God and others.
Through Circle of Grace, adults assist children and youth to recognize that each of us lives within a Circle of Grace that holds our very essence in body, mind, heart, soul, and sexuality. Children and youth are taught to identify and maintain appropriate physical, emotional, spiritual and sexual boundaries; recognize when boundary violations are about to occur; and demonstrate how to take action when boundaries are threatened or violated.
Circle of Grace is clinically sound and grounded in the Catholic tradition. Its strong parent component means parents can actively participate in their children's education and formation.
SACRAMENTS
Reconciliation & Eucharist:
Instruction takes place during religion class in second grade. Contact the second grade teachers or the principal at the elementary school at 501.336.8149 for further details.
Confirmation:
This is a 1.5 year process as determined by the Diocese of Little Rock beginning year one in 8th grade with completion of instruction and sacrament received in the 9th grade.
Rite of Christian Initiation of Children (RCIC)

This program is for any students who have missed receiving their sacraments and wish to catch up. These students study the Catholic faith and work toward receiving the sacraments of Baptism, Eucharist, and Confirmation at the Easter Vigil Mass. Contact the St. Joseph Catholic Church Parish Administrative Office at 501.327.6568 for further details.